Simwide/Local Tournament Schedules
Daily Worldwide Minigame Leaders & Info
Fishing News
SFL Week 4 Results
Neo-Realms | September 14, 2018, 8:57 pm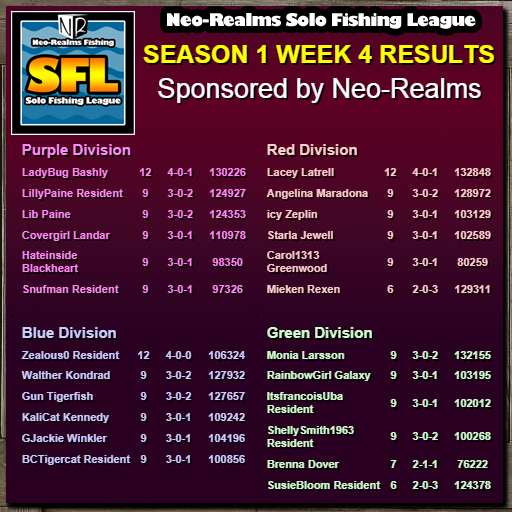 ---
SFL Week 3 Results
Neo-Realms | September 14, 2018, 8:57 pm
---
SFL Week 2 Results
Neo-Realms | August 31, 2018, 9:12 pm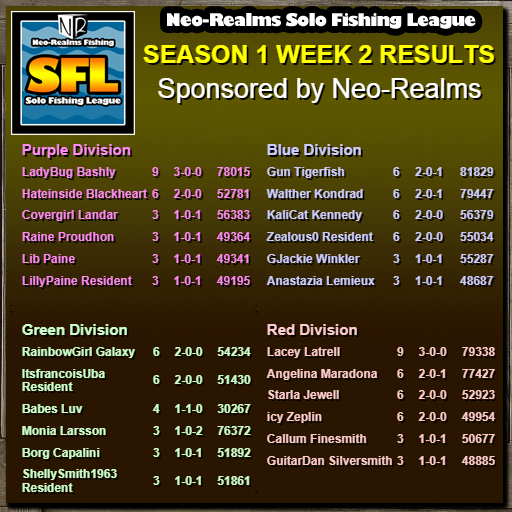 ---
SFL Week 1 Results
Neo-Realms | August 25, 2018, 1:48 am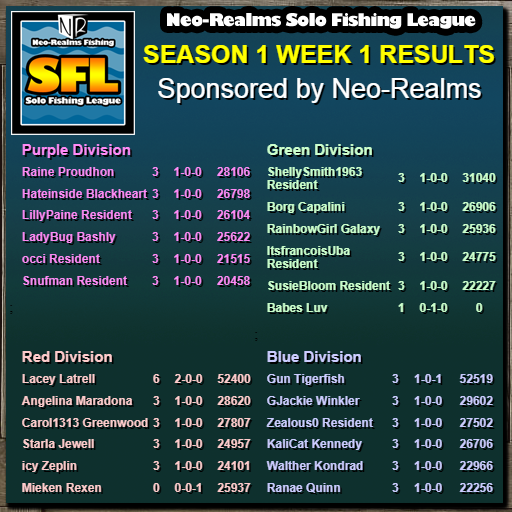 ---
SFL First Week!
Neo-Realms | August 15, 2018, 7:33 pm
Just a reminder for those in the SFL your matches are available and due by Sunday night. Good luck!
---
The Neo-Realms Fishing Camp at Alston <38, 86> in the Second Life world.
Over 400+ items & fish lurking in the water! Keep all the collectable fish you catch!
Sit back, chat and fish in a relaxing atmosphere with your friends.
The Neo-Realms Team
Sweegy Manilow
Shannah Halberd
Gessepi Gillespie
Contributors & Special Thanks
Walther Konrad
Gun Tigerfish
Krista Lawson
KaliCat Kennedy
JPBest Boffin
Grim Hathor
Marle Pollack
Aretis Pollack
Spider Mandala
Synergy Belvedere
Taylor Hope
Gabe Fitzsimmons
Mills Gullwing
MrsJakal Suavage
Folco Boffin
Deanna Gregoire