Simwide/Local Tournament Schedules
Daily Worldwide Minigame Leaders & Info
Fishing News
TFL Badges updated
Neo-Realms | May 27, 2018, 4:00 pm
TFL participation badges have now been updated for your achievement hats. Thanks for playing Season 12!
---
Federation Fishers TFL Season 12 Champs!
Neo-Realms | May 21, 2018, 10:49 pm
Congrats to the Season 12 champions, Federation Fishers!

A big thanks to our season's sponsor, Fairhaven and the rest of our sponsors: Borg Capalini Designs, Camp Snuffy, and Hippy Air!

The participation prize winner for this season goes to Reel Screamers! Prizes will be distributed this week.

Be sure to stay tuned, we are working on a new 1v1 solo league format coming in the coming weeks! Thanks for participating in Season 12!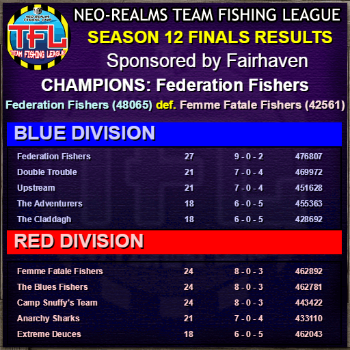 ---
TFL Season 12 Semi-final Results
Neo-Realms | May 14, 2018, 8:46 pm
The first round of playoffs are complete! It looks like the finals will be a battle of the number 1 seeds, with Femme Fatale Fishers defeating Double Trouble, and Federation Fishers defeating The Blues Fishers.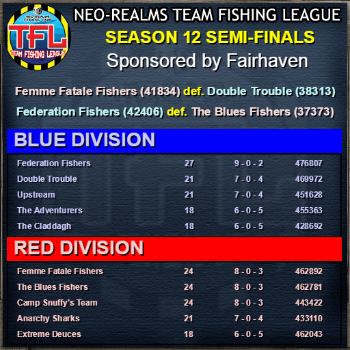 ---
TFL Season 12 Week 10 Results
Neo-Realms | May 7, 2018, 11:54 pm
The regular season has ended, and it was a close race to the playoff spots! In Blue Division, The Federation Fishers wrapped things up early, but it was down to tiebreaker points for Double Trouble to grab the second playoff spot. In Red Division, Femme Fatale Fishers and The Blues Fishers narrowly wrapped up the top 2 spots on tiebreaker points. The first round of playoffs will feature:

Federation Fishers vs. The Blues Fishers Femme Fatale Fishers vs. Double Trouble
Good luck to all teams in the playoffs!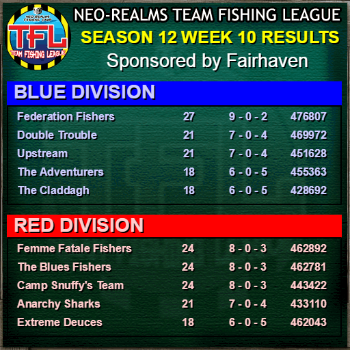 ---
TFL Season 12 Week 9 Results
Neo-Realms | April 30, 2018, 10:44 pm
It's the last week of the regular season! Two games to play this week so it's all up for grabs! Good luck to all teams this week!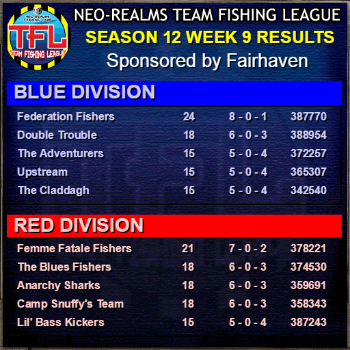 ---
The Neo-Realms Fishing Camp at Alston <38, 86> in the Second Life world.
Over 400+ items & fish lurking in the water! Keep all the collectable fish you catch!
Sit back, chat and fish in a relaxing atmosphere with your friends.
The Neo-Realms Team
Sweegy Manilow
Shannah Halberd
Gessepi Gillespie
Contributors & Special Thanks
Walther Konrad
Gun Tigerfish
Krista Lawson
KaliCat Kennedy
JPBest Boffin
Grim Hathor
Marle Pollack
Aretis Pollack
Spider Mandala
Synergy Belvedere
Taylor Hope
Gabe Fitzsimmons
Mills Gullwing
MrsJakal Suavage
Folco Boffin
Deanna Gregoire