Welcome to Neo-Realms Fishing!
Welcome! Neo-Realms Fishing is a fun fishing game for you to enjoy in the 3D virtual world of Second Life. Relax with your friends or strive to get your name atop the leaderboards! Enjoy a multitude of features, minigames and tons of ways to get rewards and prizes! Stop by and enjoy one of Second Life's oldest games!
Visit in Second Life
NR Fishing Features
Simwide/Local Tournament Schedules
Daily Worldwide Minigame Leaders & Info
Fishing News
NR Presents in the water for the rest of December!
Neo-Realms | December 11, 2017, 2:03 pm
For the rest of the year, you can catch Neo-Realms Presents! Once you catch the present, be sure to rez them to collect one of many different prizes, including bait, charm and reward points!
---
TFL Prize Distribution
Neo-Realms | November 7, 2017, 5:17 pm
Here are the prize distributions for this season:


| | |
| --- | --- |
| THE SUMMONERS | $4510L |
| Grumpy Old Men | $4335L |
| Fish Hookers | $3015L |
| The Adventurers | $2060L |
| Sushi Angels | $850L |
| Double Trouble | $850L |
| Jus A Bugs' Life | $565L |
| Feeling Nauti | $565L |


And the participation award goes to The Blues Fishers for this season!

Thanks for playing and see you all next season!
---
TFL Season 11.5 Final Results
Neo-Realms | November 7, 2017, 4:07 am
Season 11.5 is over and THE SUMMONERS are the mini-league champions! Thanks to all teams that participated this mini-season.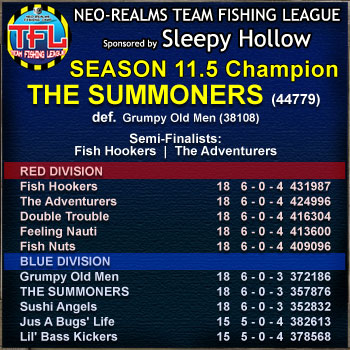 ---
TFL Season 11.5 Semi-Finals Results
Neo-Realms | October 30, 2017, 6:37 pm
The semi-finals are complete! THE SUMMONERS edged out Fish Hookers by a mere 49 points, and Grumpy Old Men defeated The Adventurers. The finals this week are between THE SUMMONERS and Grumpy Old Men. Good luck!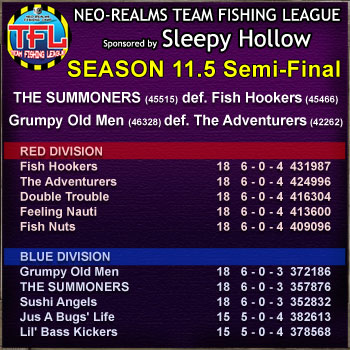 ---
TFL Season 11.5 Week 5 Results
Neo-Realms | October 24, 2017, 6:46 pm
The end of regular season is here! It was incredibly close in both Red and Blue divisions. Both divisions came down to total points for the tiebreaker! Here are the playoff participants:

Grumpy Old Men vs The Adventurers
Fish Hookers vs THE SUMMONERS

Good luck to all 4 teams participating this week!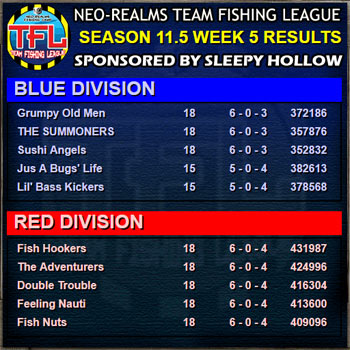 ---
The Neo-Realms Fishing Camp at Alston <38, 86> in the Second Life world.
Over 400+ items & fish lurking in the water! Keep all the collectable fish you catch!
Sit back, chat and fish in a relaxing atmosphere with your friends.
The Neo-Realms Team
Sweegy Manilow
Shannah Halberd
Gessepi Gillespie
Contributors & Special Thanks
Walther Konrad
Gun Tigerfish
Krista Lawson
KaliCat Kennedy
JPBest Boffin
Grim Hathor
Marle Pollack
Aretis Pollack
Spider Mandala
Synergy Belvedere
Taylor Hope
Gabe Fitzsimmons
Mills Gullwing
MrsJakal Suavage
Folco Boffin
Deanna Gregoire