Fishing News Page 12
---
Page 12
News Archive: 1 | 2 | 3 | 4 | 5 | 6 | 7 | 8 | 9 | 10 | 11 | 12 | 13 | 14 | 15 | 16 | 17 | 18 | 19 | 20 | 21 | 22 | 23 | 24 | 25 | 26 | 27 | 28 | 29 | 30 | 31 | 32 | 33 | 34 | 35 | 36 | 37 | 38 | 39 | 40 | 41 | 42 | 43 | 44 | 45 | 46 | 47 | 48 | 49 | 50 | 51 | 52 | 53 | 54 | 55 | 56 | 57 | 58 | 59 | 60 | 61 | 62 |
---
TFL Season 12 Week 3 Results
Neo-Realms | March 21, 2018, 12:02 am | [257]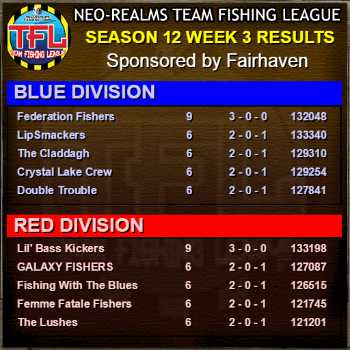 ---
TFL Season 12 Week 2 Results
Neo-Realms | March 12, 2018, 7:09 pm | [256]
We are into the second week of TFL! In Blue Division, LipSmackers, the Federation Fishers, and The Adventurers are all hanging on to their undefeated streak, while in Red Division Lil' Bass Kickers and The Lushes are the only ones with a perfect record. Good luck to all teams this week!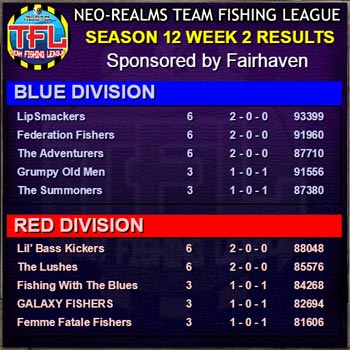 ---
TFL Season 12 Week 1 Results
Neo-Realms | March 6, 2018, 12:10 am | [255]
TFL Season 12 is underway!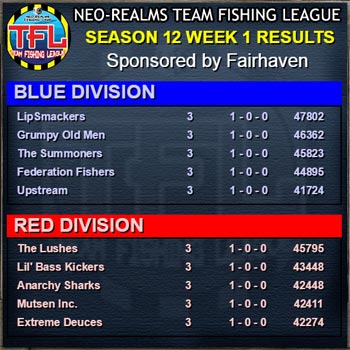 ---
Registration ends tomorrow at 6pm!
Neo-Realms | February 24, 2018, 6:57 pm | [254]
Registration for the TFL ends Sunday at 6pm, so be sure to sign up as soon as possible if you wish to participate in this season! Head down to Alston and register! More info at tfl.neorealms.net
---
Registration for TFL Season 12 sponsored by Fairhaven is underway!
Neo-Realms | February 6, 2018, 10:56 pm | [253]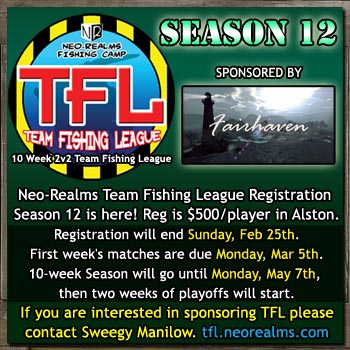 TFL Registration is now open in Alston! Registration is $500L per person and will end Sunday, Feb 25th. Feel free to take a copy of the TFL info board next to the registration vendor, it will update with TFL scores and news weekly!

The Neo-Realms Team Fishing League (TFL) is a competitive, team-based tournament league for Neo-Realms Fishing. Players compete in 2v2 matches over the course of a season, with over $12,500L + all registration fees in prizes going to the top teams and league victors. Grab a partner and register today!
---
Page 12
News Archive: 1 | 2 | 3 | 4 | 5 | 6 | 7 | 8 | 9 | 10 | 11 | 12 | 13 | 14 | 15 | 16 | 17 | 18 | 19 | 20 | 21 | 22 | 23 | 24 | 25 | 26 | 27 | 28 | 29 | 30 | 31 | 32 | 33 | 34 | 35 | 36 | 37 | 38 | 39 | 40 | 41 | 42 | 43 | 44 | 45 | 46 | 47 | 48 | 49 | 50 | 51 | 52 | 53 | 54 | 55 | 56 | 57 | 58 | 59 | 60 | 61 | 62 |