Fishing News Page 4
---
Page 4
News Archive: 1 | 2 | 3 | 4 | 5 | 6 | 7 | 8 | 9 | 10 | 11 | 12 | 13 | 14 | 15 | 16 | 17 | 18 | 19 | 20 | 21 | 22 | 23 | 24 | 25 | 26 | 27 | 28 | 29 | 30 | 31 | 32 | 33 | 34 | 35 | 36 | 37 | 38 | 39 | 40 | 41 | 42 | 43 | 44 | 45 | 46 | 47 | 48 | 49 | 50 | 51 | 52 | 53 | 54 | 55 | 56 | 57 | 58 | 59 |
---
Neo-Realms presents back in the water!
Neo-Realms | December 8, 2018, 3:37 pm | [283]
For the rest of the year, you can catch Neo-Realms Presents! Once you catch the present, be sure to rez them to collect one of many different prizes, including bait, charm and reward points!
---
SFL Season 1 Final Results!
Neo-Realms | November 15, 2018, 8:21 pm | [282]
Congrats to Carol1313 Greenwood, the first champion of the Solo Fishing League! A huge thanks to everyone who participated as well as our league sponsors. SFL will be returning after the next TFL Season!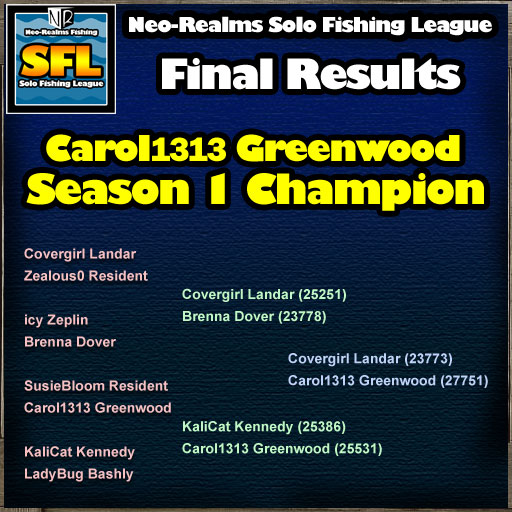 Here's the prize earnings for this season:



Carol1313 Greenwood ($4270L) : SFL Champion and 2nd in Red Division
Covergirl Landar ($3370L) : SFL Runner-up and Purple Division Champ
Kalicat Kennedy ($1620L) : SFL Semi-finalist and 2nd in Blue Division
Brenna Dover ($1620L) : SFL Semi-finalist and 2nd in Green Division
Zealous0 Resident ($1850L) : SFL Quarter-finalist and Blue Division Champ
icy Zeplin ($1850L) : SFL Quarter-finalist and Red Division Champs
SusieBloom Resident ($1850L) : SFL Quarter-finalist and Green Division Champs
LadyBug Bashly ($1150L) : SFL Quarter-finalist and 2nd in Purple Division
GJackie Winkler ($470L) : 3rd in Blue Division
Lacey Latrell ($470L) : 3rd in Red Division
ItsfrancoisUba Resident ($470L) : 3rd in Green Division
Hateinside Blackheart ($470L) : 3rd in Purple Division
BCTigercat Resident ($235L) : 4th in Blue Division
Angelina Maradona ($235L) : 4th in Red Division
Monia Larsson ($235L) : 4th in Green Division
LillyPaine Resident ($235L) : 4th in Purple Division
---
SFL Week 11 - Quarterfinal Results
Neo-Realms | November 3, 2018, 1:55 pm | [281]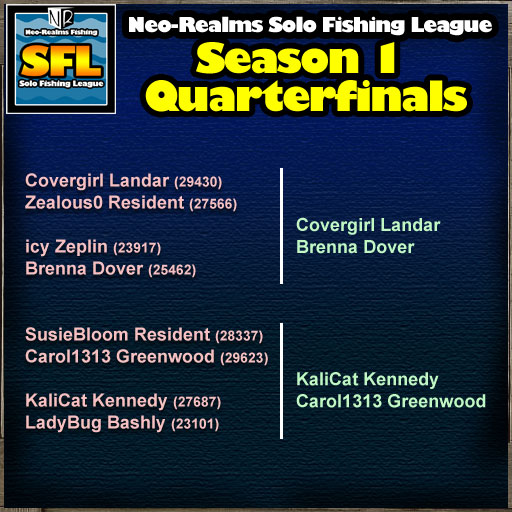 ---
SFL Week 10 Results
Neo-Realms | October 22, 2018, 11:19 pm | [280]
That's it for the regular season, the playoffs begin this week with the top 2 players of each division! The first round of playoffs are:

KaliCat Kennedy vs. LadyBug Bashly
SusieBloom Resident vs. Carol1313 Greenwood
Covergirl Landar vs. Zealous0 Resident
icy Zeplin vs. Brenna Dover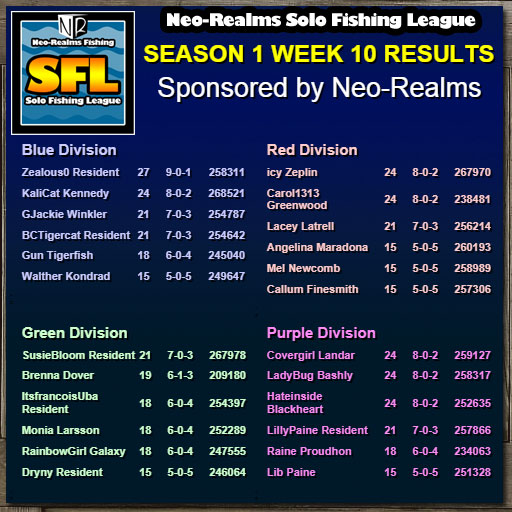 ---
SFL Week 9 Results
Neo-Realms | October 20, 2018, 1:36 am | [279]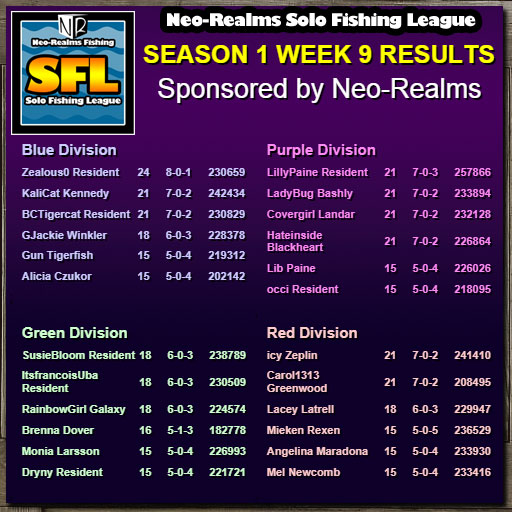 ---
Page 4
News Archive: 1 | 2 | 3 | 4 | 5 | 6 | 7 | 8 | 9 | 10 | 11 | 12 | 13 | 14 | 15 | 16 | 17 | 18 | 19 | 20 | 21 | 22 | 23 | 24 | 25 | 26 | 27 | 28 | 29 | 30 | 31 | 32 | 33 | 34 | 35 | 36 | 37 | 38 | 39 | 40 | 41 | 42 | 43 | 44 | 45 | 46 | 47 | 48 | 49 | 50 | 51 | 52 | 53 | 54 | 55 | 56 | 57 | 58 | 59 |