Fishing News Page 4
---
Page 4
News Archive: 1 | 2 | 3 | 4 | 5 | 6 | 7 | 8 | 9 | 10 | 11 | 12 | 13 | 14 | 15 | 16 | 17 | 18 | 19 | 20 | 21 | 22 | 23 | 24 | 25 | 26 | 27 | 28 | 29 | 30 | 31 | 32 | 33 | 34 | 35 | 36 | 37 | 38 | 39 | 40 | 41 | 42 | 43 | 44 | 45 | 46 | 47 | 48 | 49 | 50 |
---
Last day for TFL Registration
Neo-Realms | April 11, 2020, 7:33 pm | [316]
If you would like to participate in the TFL, today is the last day to register! You can sign up at the TFL vendor in Alston. If you have any questions, please contact Sweegy Manilow.
---
TFL Season 14 Registration Underway!
Neo-Realms | March 24, 2020, 12:03 am | [315]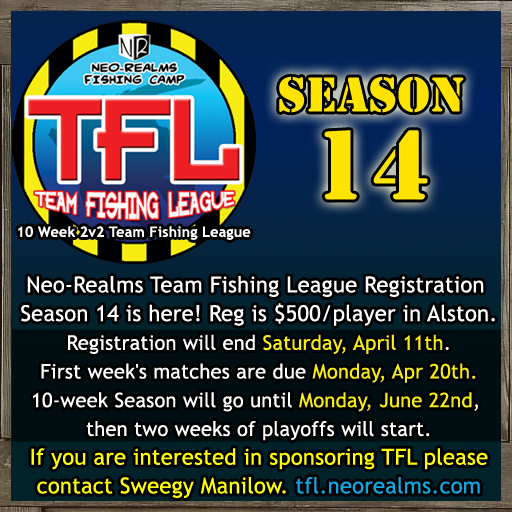 TFL Registration is now open in Alston! Registration is $500L per person and will end Sunday, Mar 24th. Feel free to take a copy of the TFL info board next to the registration vendor, it will update with TFL scores and news weekly!

The Neo-Realms Team Fishing League (TFL) is a competitive, team-based tournament league for Neo-Realms Fishing. Players compete in 2v2 matches over the course of a season, with over $12,500L + all registration fees in prizes going to the top teams and league victors. Grab a partner and register today!
---
TFL Registration starting soon!
Neo-Realms | February 29, 2020, 3:45 pm | [314]
Registrations for the new season of the Team Fishing League will be starting soon in the next couple of weeks! If you are interested in sponsoring, please contact Sweegy Manilow.
---
SFL Season 2 Final Results
Neo-Realms | February 15, 2020, 12:43 am | [313]
Congrats to KissMyPixelatedBum, the SFL Season 2 champion! Thanks to everyone who participated this season. TFL registration coming soon!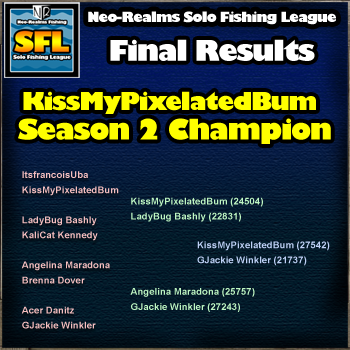 Final Winnings:


| | | | | | |
| --- | --- | --- | --- | --- | --- |
| KissMyPixelatedBum Resident | 1st SFL | 2nd Blue Div | 3165 | 720 | $3885L |
| GJackie Winkler | 2nd SFL | 2nd Purple Div | 1740 | 720 | $2460L |
| Angelina Maradona | 3-4 SFL | 1st Red Div | 778 | 1333 | $2111L |
| LadyBug Bashly | 3-4 SFL | 1st Green Div | 778 | 1333 | $2111L |
| ItsfrancoisUba Resident | 5-8th SFL | 1st Purple Div | 343 | 1333 | $1676L |
| Acer Danitz | 5-8th SFL | 1st Blue Div | 343 | 1333 | $1676L |
| KaliCat Kennedy | 5-8th SFL | 2nd Red Div | 343 | 720 | $1063L |
| Brenna Dover | 5-8th SFL | 2nd Green Div | 343 | 720 | $1063L |
| Dylan Mackenzie | | 3rd Blue Div | | 435 | $435L |
| Carol1313 Greenwood | | 4th Blue Div | | 218 | $218L |
| Borg Capalini | | 3rd Red Div | | 435 | $435L |
| LillyPaine Resident | | 4th Red Div | | 218 | $218L |
| poison Scribe | | 3rd Green Div | | 435 | $435L |
| icy Zeplin | | 4th Green Div | | 218 | $218L |
| dazzleme2 Resident | | 3rd Purple Div | | 435 | $435L |
| Maankind Benelli | | 4th Purple Div | | 218 | $218L |
---
SFL Season 2 Week 9 Results: Playoffs start!
Neo-Realms | January 21, 2020, 7:01 pm | [312]
The regular season is over and playoffs have begun!

ItsfrancoisUba Resident vs. KissMyPixelatedBum Resident
LadyBug Bashly vs. KaliCat Kennedy
Angelina Maradona vs. Brenna Dover
Acer Danitz vs. GJackie Winkler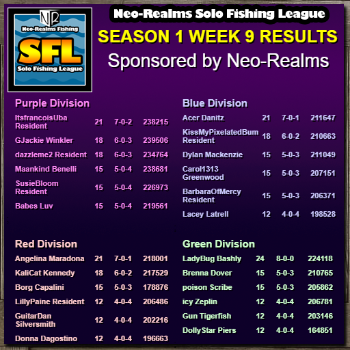 ---
Page 4
News Archive: 1 | 2 | 3 | 4 | 5 | 6 | 7 | 8 | 9 | 10 | 11 | 12 | 13 | 14 | 15 | 16 | 17 | 18 | 19 | 20 | 21 | 22 | 23 | 24 | 25 | 26 | 27 | 28 | 29 | 30 | 31 | 32 | 33 | 34 | 35 | 36 | 37 | 38 | 39 | 40 | 41 | 42 | 43 | 44 | 45 | 46 | 47 | 48 | 49 | 50 |