Fishing News Page 28
---
Page 28
News Archive: 1 | 2 | 3 | 4 | 5 | 6 | 7 | 8 | 9 | 10 | 11 | 12 | 13 | 14 | 15 | 16 | 17 | 18 | 19 | 20 | 21 | 22 | 23 | 24 | 25 | 26 | 27 | 28 | 29 | 30 | 31 | 32 | 33 | 34 | 35 | 36 | 37 | 38 | 39 | 40 | 41 | 42 | 43 | 44 | 45 | 46 | 47 | 48 | 49 |
---
New Mini-game: Neo-Realms Clamming now available for testing in Alston and Rivulet!
Neo-Realms | June 16, 2012, 11:22 pm | [155]
Our newest fishing mini-game, Neo-Realms Clamming, is available for testing in Alston and Rivulet! Be sure to stop by and give it a try, and report any problems you find to Sweegy Manilow
---
Congratulations to Season 6 Winners: The UnderCovers!
Neo-Realms | May 9, 2012, 1:27 pm | [154]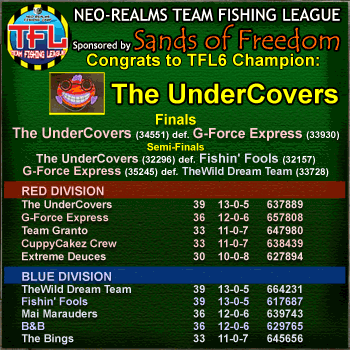 Congratulations to the Season 6 Winners, the UnderCovers! It was an exciting season, thanks to everyone who participated! A big thank you to all of our sponsors for the season including our league sponsor Sands of Freedom!
---
2012 Spring Cup April 15th!
Neo-Realms | April 9, 2012, 3:58 pm | [153]
---
TFL Registration Ends Sunday!
Neo-Realms | February 9, 2012, 2:50 pm | [152]
If you have not registered for the Team Fishing League yet, the last day to register is Sunday! If you have any questions about the league, please contact Sweegy Manilow or visit tfl.neorealms.net.
---
TFL Season 6 Registration starting soon!
Neo-Realms | January 11, 2012, 4:08 pm | [150]
Neo-Realms Team Fishing League Season 6 registration will begin on January 21st with the season starting February 13th! If you wish to become a sponsor of the TFL, please contact Sweegy Manilow or Shannah Halberd. We still have the full sponsorship (now $10k) and other categories available.
---
Page 28
News Archive: 1 | 2 | 3 | 4 | 5 | 6 | 7 | 8 | 9 | 10 | 11 | 12 | 13 | 14 | 15 | 16 | 17 | 18 | 19 | 20 | 21 | 22 | 23 | 24 | 25 | 26 | 27 | 28 | 29 | 30 | 31 | 32 | 33 | 34 | 35 | 36 | 37 | 38 | 39 | 40 | 41 | 42 | 43 | 44 | 45 | 46 | 47 | 48 | 49 |