Fishing News Page 42
---
Page 42
News Archive: 1 | 2 | 3 | 4 | 5 | 6 | 7 | 8 | 9 | 10 | 11 | 12 | 13 | 14 | 15 | 16 | 17 | 18 | 19 | 20 | 21 | 22 | 23 | 24 | 25 | 26 | 27 | 28 | 29 | 30 | 31 | 32 | 33 | 34 | 35 | 36 | 37 | 38 | 39 | 40 | 41 | 42 | 43 | 44 | 45 | 46 | 47 | 48 | 49 | 50 | 51 | 52 | 53 | 54 | 55 | 56 |
---
The October Halloween Av Quest is here!
Neo-Realms | October 10, 2008, 6:58 pm | [75]
Keep an eye out for Jackolanterns that have fallen in the water this month! If you fish one of these up be sure to rez it on the ground, and get one of 5 quest pieces! Once you get all five quest pieces, craft the quest to receive one of four NR tiny avs! You'll either get a Aqua Guy toy, Snorkle Gessepi, Water Metool or a Wally tiny avatar costume!

*UPDATE* Aretis Fish Av also now available! :)

Halloween Av Quest:
1x [NR] 4.0 Candycorn
1x [NR] 4.0 Bubble Gum
1x [NR] 4.0 Peanutbutter Cup
1x [NR] 4.0 Loot Bag
1x [NR] 4.0 Costume Coupon
---
New Fishing Content Update is Here!
Neo-Realms | September 21, 2008, 7:36 pm | [74]
We've got lots of new updates, with 70 new fish and some camp upgrades! More info and fish list in the notecard!

Please note that your reward points might not show while we are in transition, don't worry they are still accumulating! :)



*** Fish catches are simwide now! ***
No longer restricted to shout distance, you can catch fish anywhere in a camp sim now.
For private tourneys (for now) you will still need to be within shout distance of the scoreboard.

*** Item Prizes for Item Fish Now Distribute Seperately ***
You now no longer have to rez a fish with an item in it! You'll get the fish in inventory, and a delivery of the item that was inside of them separately.

*** New Vendors ***
New vendors will be rolling out with a snazzier look, and also features a red box that you can click to submit a help ticket to the NR Customer Support System.

*** NEW SUPERRARES ***
New super rare spawns! Green Lilly Eel for large class, and Trojan Seahorse for Epic! These are very rare and only spawn when GREEN DOPEADOS and RED GYRADOS aren't available!

*** NEW LOCAL CAMP BEST CATCH MODES ***
The local camp best catch contests at Tier 3 camps will be rolling out to include prizes for Best Small Fish, Best Medium Fish and Best Overall Catch!

*** QUESTS ***
New quests coming soon!

*** AND THE 70 NEW FISH! ***
Click here for the new fish!
---
Big update this week!
Neo-Realms | September 14, 2008, 10:20 pm | [73]
Big update this week with tons of new fish! Stay tuned!
---
NEW TOURNEY MODE: BC ROUNDUP!
Neo-Realms | September 8, 2008, 10:41 pm | [72]
We've got a new tourney mode for the globals: Best Catch Roundup! It comes in two flavors: Beginner Event Rod BC Roundup and Open Rod BC Roundup. BCR is more about quality of catches than quantity.

How to play:
There are 11 5-minute rounds, in which the top 10 best catches during the round get 100/50/30/20/10/5/4/3/2/1 points respectively. At the end of the match all of the points from the rounds are added up to find a winner. Round ties are broken by number of catches and total points for that round, and overall points ties are broken by overall catch number and total points.

Look for a BC Roundup at a tourney near you soon! :)
---
FINAL TEAM FISHING LEAGUE RESULTS!
Neo-Realms | August 11, 2008, 11:28 am | [71]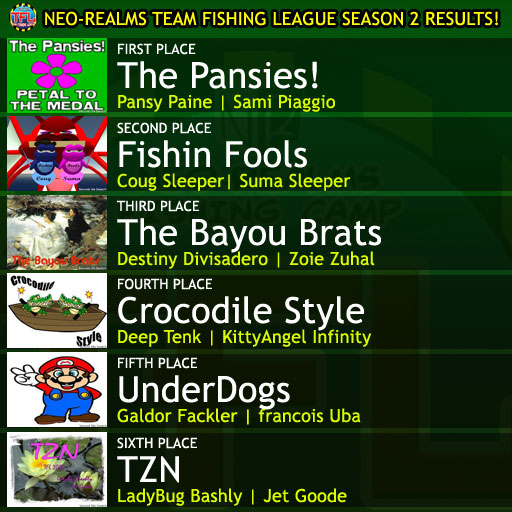 Congratulations to The Pansies for winning the league this year! It was an extremely close race, separated by only one win!

A very special thanks to all of our teams who participated this season, as well as our sponsors who helped make this all possible!

I hope everyone had a lot of fun, and will post more news and info about future league events and seasons at tfl.neorealms.net
---
Page 42
News Archive: 1 | 2 | 3 | 4 | 5 | 6 | 7 | 8 | 9 | 10 | 11 | 12 | 13 | 14 | 15 | 16 | 17 | 18 | 19 | 20 | 21 | 22 | 23 | 24 | 25 | 26 | 27 | 28 | 29 | 30 | 31 | 32 | 33 | 34 | 35 | 36 | 37 | 38 | 39 | 40 | 41 | 42 | 43 | 44 | 45 | 46 | 47 | 48 | 49 | 50 | 51 | 52 | 53 | 54 | 55 | 56 |