Fishing News Page 3
---
Page 3
News Archive: 1 | 2 | 3 | 4 | 5 | 6 | 7 | 8 | 9 | 10 | 11 | 12 | 13 | 14 | 15 | 16 | 17 | 18 | 19 | 20 | 21 | 22 | 23 | 24 | 25 | 26 | 27 | 28 | 29 | 30 | 31 | 32 | 33 | 34 | 35 | 36 | 37 | 38 | 39 | 40 | 41 | 42 | 43 | 44 | 45 | 46 | 47 | 48 | 49 | 50 | 51 | 52 | 53 | 54 | 55 | 56 | 57 | 58 | 59 | 60 | 61 | 62 | 63 | 64 |
---
TFL Registration starting soon!
Neo-Realms | February 29, 2020, 3:45 pm | [314]
Registrations for the new season of the Team Fishing League will be starting soon in the next couple of weeks! If you are interested in sponsoring, please contact Sweegy Manilow.
---
SFL Season 2 Final Results
Neo-Realms | February 15, 2020, 12:43 am | [313]
Congrats to KissMyPixelatedBum, the SFL Season 2 champion! Thanks to everyone who participated this season. TFL registration coming soon!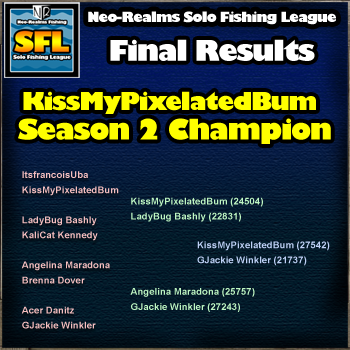 Final Winnings:


| | | | | | |
| --- | --- | --- | --- | --- | --- |
| KissMyPixelatedBum Resident | 1st SFL | 2nd Blue Div | 3165 | 720 | $3885L |
| GJackie Winkler | 2nd SFL | 2nd Purple Div | 1740 | 720 | $2460L |
| Angelina Maradona | 3-4 SFL | 1st Red Div | 778 | 1333 | $2111L |
| LadyBug Bashly | 3-4 SFL | 1st Green Div | 778 | 1333 | $2111L |
| ItsfrancoisUba Resident | 5-8th SFL | 1st Purple Div | 343 | 1333 | $1676L |
| Acer Danitz | 5-8th SFL | 1st Blue Div | 343 | 1333 | $1676L |
| KaliCat Kennedy | 5-8th SFL | 2nd Red Div | 343 | 720 | $1063L |
| Brenna Dover | 5-8th SFL | 2nd Green Div | 343 | 720 | $1063L |
| Dylan Mackenzie | | 3rd Blue Div | | 435 | $435L |
| Carol1313 Greenwood | | 4th Blue Div | | 218 | $218L |
| Borg Capalini | | 3rd Red Div | | 435 | $435L |
| LillyPaine Resident | | 4th Red Div | | 218 | $218L |
| poison Scribe | | 3rd Green Div | | 435 | $435L |
| icy Zeplin | | 4th Green Div | | 218 | $218L |
| dazzleme2 Resident | | 3rd Purple Div | | 435 | $435L |
| Maankind Benelli | | 4th Purple Div | | 218 | $218L |
---
SFL Season 2 Week 9 Results: Playoffs start!
Neo-Realms | January 21, 2020, 7:01 pm | [312]
The regular season is over and playoffs have begun!

ItsfrancoisUba Resident vs. KissMyPixelatedBum Resident
LadyBug Bashly vs. KaliCat Kennedy
Angelina Maradona vs. Brenna Dover
Acer Danitz vs. GJackie Winkler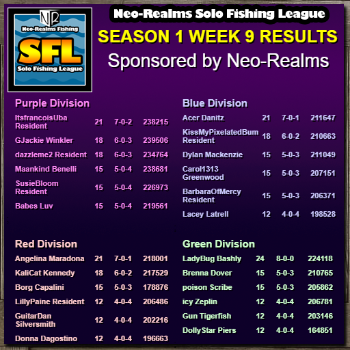 ---
SFL Season 2 Week 8 Results
Neo-Realms | January 15, 2020, 10:30 pm | [311]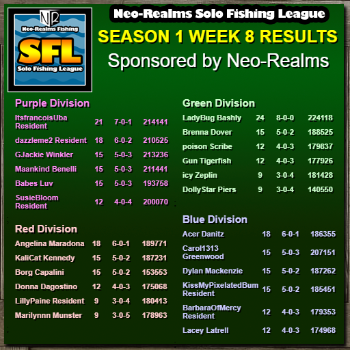 ---
SFL Season 2 Week 7 Results
Neo-Realms | January 11, 2020, 1:10 am | [310]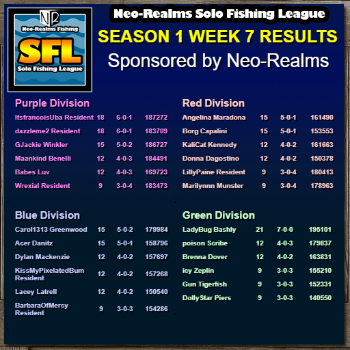 ---
Page 3
News Archive: 1 | 2 | 3 | 4 | 5 | 6 | 7 | 8 | 9 | 10 | 11 | 12 | 13 | 14 | 15 | 16 | 17 | 18 | 19 | 20 | 21 | 22 | 23 | 24 | 25 | 26 | 27 | 28 | 29 | 30 | 31 | 32 | 33 | 34 | 35 | 36 | 37 | 38 | 39 | 40 | 41 | 42 | 43 | 44 | 45 | 46 | 47 | 48 | 49 | 50 | 51 | 52 | 53 | 54 | 55 | 56 | 57 | 58 | 59 | 60 | 61 | 62 | 63 | 64 |