Fishing News Page 14
---
Page 14
News Archive: 1 | 2 | 3 | 4 | 5 | 6 | 7 | 8 | 9 | 10 | 11 | 12 | 13 | 14 | 15 | 16 | 17 | 18 | 19 | 20 | 21 | 22 | 23 | 24 | 25 | 26 | 27 | 28 | 29 | 30 | 31 | 32 | 33 | 34 | 35 | 36 | 37 | 38 | 39 | 40 | 41 | 42 | 43 | 44 | 45 | 46 | 47 | 48 | 49 | 50 | 51 | 52 | 53 | 54 | 55 | 56 | 57 | 58 | 59 | 60 | 61 | 62 | 63 | 64 |
---
TFL Season 12 Week 5 Results
Neo-Realms | April 4, 2018, 9:12 pm | [259]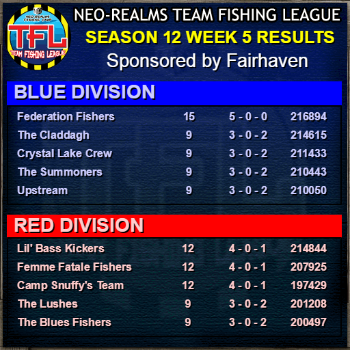 ---
TFL Season 12 Week 4 Results
Neo-Realms | March 27, 2018, 12:19 am | [258]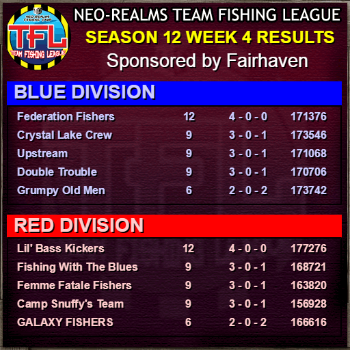 ---
TFL Season 12 Week 3 Results
Neo-Realms | March 21, 2018, 12:02 am | [257]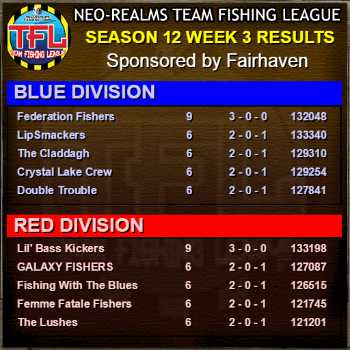 ---
TFL Season 12 Week 2 Results
Neo-Realms | March 12, 2018, 7:09 pm | [256]
We are into the second week of TFL! In Blue Division, LipSmackers, the Federation Fishers, and The Adventurers are all hanging on to their undefeated streak, while in Red Division Lil' Bass Kickers and The Lushes are the only ones with a perfect record. Good luck to all teams this week!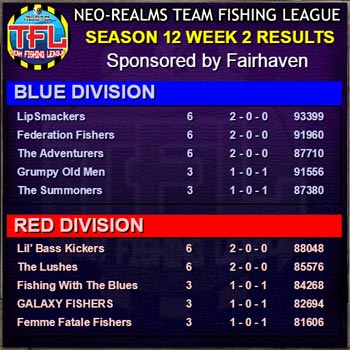 ---
TFL Season 12 Week 1 Results
Neo-Realms | March 6, 2018, 12:10 am | [255]
TFL Season 12 is underway!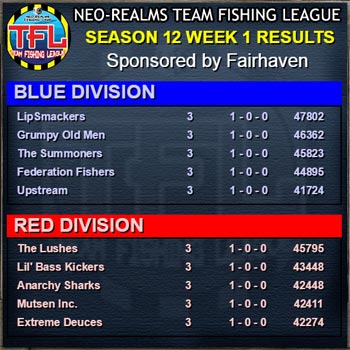 ---
Page 14
News Archive: 1 | 2 | 3 | 4 | 5 | 6 | 7 | 8 | 9 | 10 | 11 | 12 | 13 | 14 | 15 | 16 | 17 | 18 | 19 | 20 | 21 | 22 | 23 | 24 | 25 | 26 | 27 | 28 | 29 | 30 | 31 | 32 | 33 | 34 | 35 | 36 | 37 | 38 | 39 | 40 | 41 | 42 | 43 | 44 | 45 | 46 | 47 | 48 | 49 | 50 | 51 | 52 | 53 | 54 | 55 | 56 | 57 | 58 | 59 | 60 | 61 | 62 | 63 | 64 |