Fishing News Page 22
---
Page 22
News Archive: 1 | 2 | 3 | 4 | 5 | 6 | 7 | 8 | 9 | 10 | 11 | 12 | 13 | 14 | 15 | 16 | 17 | 18 | 19 | 20 | 21 | 22 | 23 | 24 | 25 | 26 | 27 | 28 | 29 | 30 | 31 | 32 | 33 | 34 | 35 | 36 | 37 | 38 | 39 | 40 | 41 | 42 | 43 | 44 | 45 | 46 | 47 | 48 | 49 | 50 | 51 | 52 | 53 | 54 | 55 | 56 | 57 | 58 | 59 | 60 | 61 | 62 | 63 | 64 |
---
TFL Badges Available
Neo-Realms | June 13, 2016, 7:01 am | [219]
Hello TFL participants, your badges for competing in the TFL are ready and available on your Achievement Hats.
---
TFL Registration ends tonight!
Neo-Realms | February 28, 2016, 6:25 pm | [218]
If you wish to participate in the Team Fishing League this season, be sure to register and complete your team registration by tonight! Week 1 TFL matches will be available Monday, to be completed BEFORE Monday, March 7th.
---
TFL Season 10 Registration Now Available!
Neo-Realms | February 6, 2016, 1:39 pm | [217]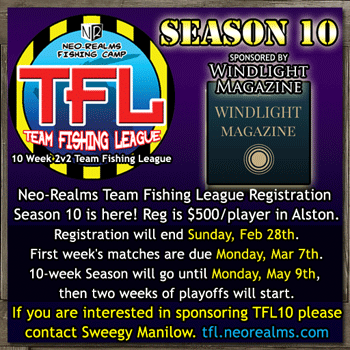 It's that time again! The Neo-Realms Team Fishing League (TFL) is a competitive, team-based tournament league for Neo-Realms Fishing. Players compete in 2v2 matches over the course of a season, with prizes going to the league victors. Registrations are open in Alston and close on Sunday, Feb 28th! For more info check out tfl.neorealms.net! If you are interested in sponsorship, please contact Sweegy Manilow.
---
Happy New Year!
Neo-Realms | January 1, 2016, 3:20 am | [216]
Happy New Year everyone! 24 hours of worldwide Happy Hour today! Enjoy!
---
Neo-Realms Presents in the water!
Neo-Realms | December 19, 2015, 11:18 pm | [215]
For the rest of the year, you can catch Neo-Realms Presents! Once you catch the present, be sure to rez them to collect one of many different prizes, including bait, charm and reward points!
---
Page 22
News Archive: 1 | 2 | 3 | 4 | 5 | 6 | 7 | 8 | 9 | 10 | 11 | 12 | 13 | 14 | 15 | 16 | 17 | 18 | 19 | 20 | 21 | 22 | 23 | 24 | 25 | 26 | 27 | 28 | 29 | 30 | 31 | 32 | 33 | 34 | 35 | 36 | 37 | 38 | 39 | 40 | 41 | 42 | 43 | 44 | 45 | 46 | 47 | 48 | 49 | 50 | 51 | 52 | 53 | 54 | 55 | 56 | 57 | 58 | 59 | 60 | 61 | 62 | 63 | 64 |