Fishing News Page 45
---
Page 45
News Archive: 1 | 2 | 3 | 4 | 5 | 6 | 7 | 8 | 9 | 10 | 11 | 12 | 13 | 14 | 15 | 16 | 17 | 18 | 19 | 20 | 21 | 22 | 23 | 24 | 25 | 26 | 27 | 28 | 29 | 30 | 31 | 32 | 33 | 34 | 35 | 36 | 37 | 38 | 39 | 40 | 41 | 42 | 43 | 44 | 45 | 46 | 47 | 48 | 49 | 50 | 51 | 52 | 53 | 54 | 55 | 56 | 57 | 58 | 59 | 60 | 61 | 62 | 63 | 64 |
---
Hearts Enchanted Camp Closing
Neo-Realms | August 13, 2009, 3:39 pm | [103]
With sadness I must report that the Hearts Enchanted Fishing Camp will be closing permanently. We are renovating our Alston camp to be our headquarters once again for Neo-Realms Fishing. Tourneys that took place in Hearts Enchanted will be moved to Alston or similar areas. Be sure to keep an eye on the tourney schedule for more details. Thank you, Hearts, for supplying us with so many fishing memories, and thank you to coeur Gorky and Sorceress Diamond for maintaining the sim! Thanks, Sweegy
---
Team Fishing League Season 3 is complete! Congrats to The Claddagh!
Neo-Realms | August 3, 2009, 11:21 pm | [102]
The Neo-Realms Team Fishing League Sponsored by My Playground Season 3's winner is The Claddagh! Congrats to Gabe Fitzsimmons and Alicia Czukor!

Thank you so much everyone who participated in Season 3! Hope you all had a lot of fun! A Season 4 (mini-season with 4 divisions and less games) may be just around the corner, so keep an eye out in this space for more details!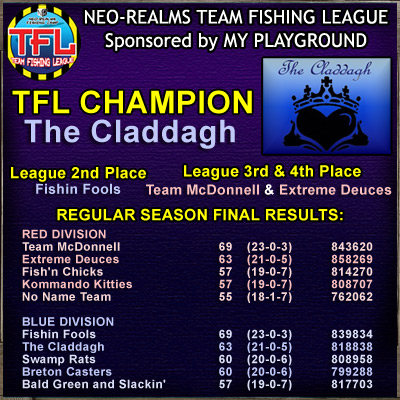 Once again a very special thanks to our league sponsor MY PLAYGROUND, and our platinum sponsors: The Metaverse Messenger, Club McDonnell, Valentines Island, Club Extreme, Val's Recreation Center, and Halberd Images!
---
SLRFL Fish-a-thon a HUGE success! :)
Neo-Realms | July 20, 2009, 6:51 pm | [101]
A very special thanks to everyone who participated in the fish-a-thon. In total we raised L$127,688 for cancer research! You guys rock! Thanks for making our fishing community so awesome! :)
---
SLRFL Fishathon Saturday July 18th!
Neo-Realms | July 16, 2009, 2:45 am | [100]
SLRFL starts on Saturday, and NR will be there once again for the 3rd year! We'll be having our annual fish-a-thon during the event, and each fish caught in the world during this time we will contribute $1 up to the posted max! So get on out there, fish, and help contribute to a great cause! If you'd like to donate to the fishathon max, please let Sweegy know.
---
New Badge for Worldwide Best Pro Crab Score!
Neo-Realms | April 28, 2009, 7:02 pm | [99]

There's now a new achievement badge for the worldwide best crab score! Be sure to click on your hat and click 'GET BADGES' once you achieve the daily best to receive the new badge.
---
Page 45
News Archive: 1 | 2 | 3 | 4 | 5 | 6 | 7 | 8 | 9 | 10 | 11 | 12 | 13 | 14 | 15 | 16 | 17 | 18 | 19 | 20 | 21 | 22 | 23 | 24 | 25 | 26 | 27 | 28 | 29 | 30 | 31 | 32 | 33 | 34 | 35 | 36 | 37 | 38 | 39 | 40 | 41 | 42 | 43 | 44 | 45 | 46 | 47 | 48 | 49 | 50 | 51 | 52 | 53 | 54 | 55 | 56 | 57 | 58 | 59 | 60 | 61 | 62 | 63 | 64 |