Fishing News Page 15
---
Page 15
News Archive: 1 | 2 | 3 | 4 | 5 | 6 | 7 | 8 | 9 | 10 | 11 | 12 | 13 | 14 | 15 | 16 | 17 | 18 | 19 | 20 | 21 | 22 | 23 | 24 | 25 | 26 | 27 | 28 | 29 | 30 | 31 | 32 | 33 | 34 | 35 | 36 | 37 | 38 | 39 | 40 | 41 | 42 | 43 | 44 | 45 | 46 | 47 | 48 | 49 | 50 | 51 | 52 | 53 | 54 | 55 | 56 | 57 | 58 | 59 | 60 | 61 | 62 | 63 | 64 |
---
Registration ends tomorrow at 6pm!
Neo-Realms | February 24, 2018, 6:57 pm | [254]
Registration for the TFL ends Sunday at 6pm, so be sure to sign up as soon as possible if you wish to participate in this season! Head down to Alston and register! More info at tfl.neorealms.net
---
Registration for TFL Season 12 sponsored by Fairhaven is underway!
Neo-Realms | February 6, 2018, 10:56 pm | [253]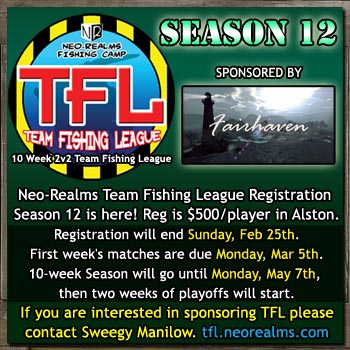 TFL Registration is now open in Alston! Registration is $500L per person and will end Sunday, Feb 25th. Feel free to take a copy of the TFL info board next to the registration vendor, it will update with TFL scores and news weekly!

The Neo-Realms Team Fishing League (TFL) is a competitive, team-based tournament league for Neo-Realms Fishing. Players compete in 2v2 matches over the course of a season, with over $12,500L + all registration fees in prizes going to the top teams and league victors. Grab a partner and register today!
---
XP Happy Hour all day for New Years!
Neo-Realms | December 31, 2017, 5:56 pm | [252]
Double XP all day tomorrow for New Years Day!
---
NR Presents in the water for the rest of December!
Neo-Realms | December 11, 2017, 2:03 pm | [251]
For the rest of the year, you can catch Neo-Realms Presents! Once you catch the present, be sure to rez them to collect one of many different prizes, including bait, charm and reward points!
---
TFL Prize Distribution
Neo-Realms | November 7, 2017, 5:17 pm | [250]
Here are the prize distributions for this season:


| | |
| --- | --- |
| THE SUMMONERS | $4510L |
| Grumpy Old Men | $4335L |
| Fish Hookers | $3015L |
| The Adventurers | $2060L |
| Sushi Angels | $850L |
| Double Trouble | $850L |
| Jus A Bugs' Life | $565L |
| Feeling Nauti | $565L |


And the participation award goes to The Blues Fishers for this season!

Thanks for playing and see you all next season!
---
Page 15
News Archive: 1 | 2 | 3 | 4 | 5 | 6 | 7 | 8 | 9 | 10 | 11 | 12 | 13 | 14 | 15 | 16 | 17 | 18 | 19 | 20 | 21 | 22 | 23 | 24 | 25 | 26 | 27 | 28 | 29 | 30 | 31 | 32 | 33 | 34 | 35 | 36 | 37 | 38 | 39 | 40 | 41 | 42 | 43 | 44 | 45 | 46 | 47 | 48 | 49 | 50 | 51 | 52 | 53 | 54 | 55 | 56 | 57 | 58 | 59 | 60 | 61 | 62 | 63 | 64 |