Fishing News Page 51
---
Page 51
News Archive: 1 | 2 | 3 | 4 | 5 | 6 | 7 | 8 | 9 | 10 | 11 | 12 | 13 | 14 | 15 | 16 | 17 | 18 | 19 | 20 | 21 | 22 | 23 | 24 | 25 | 26 | 27 | 28 | 29 | 30 | 31 | 32 | 33 | 34 | 35 | 36 | 37 | 38 | 39 | 40 | 41 | 42 | 43 | 44 | 45 | 46 | 47 | 48 | 49 | 50 | 51 | 52 | 53 | 54 | 55 | 56 | 57 | 58 | 59 | 60 | 61 | 62 | 63 | 64 |
---
Big update this week!
Neo-Realms | September 14, 2008, 10:20 pm | [73]
Big update this week with tons of new fish! Stay tuned!
---
NEW TOURNEY MODE: BC ROUNDUP!
Neo-Realms | September 8, 2008, 10:41 pm | [72]
We've got a new tourney mode for the globals: Best Catch Roundup! It comes in two flavors: Beginner Event Rod BC Roundup and Open Rod BC Roundup. BCR is more about quality of catches than quantity.

How to play:
There are 11 5-minute rounds, in which the top 10 best catches during the round get 100/50/30/20/10/5/4/3/2/1 points respectively. At the end of the match all of the points from the rounds are added up to find a winner. Round ties are broken by number of catches and total points for that round, and overall points ties are broken by overall catch number and total points.

Look for a BC Roundup at a tourney near you soon! :)
---
FINAL TEAM FISHING LEAGUE RESULTS!
Neo-Realms | August 11, 2008, 11:28 am | [71]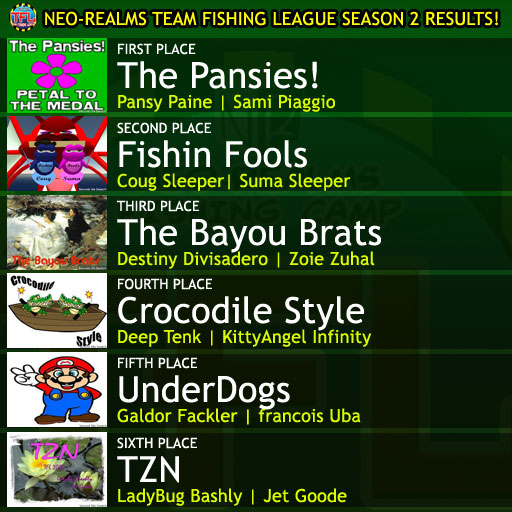 Congratulations to The Pansies for winning the league this year! It was an extremely close race, separated by only one win!

A very special thanks to all of our teams who participated this season, as well as our sponsors who helped make this all possible!

I hope everyone had a lot of fun, and will post more news and info about future league events and seasons at tfl.neorealms.net
---
Final Day of the Team Fishing League!
Neo-Realms | August 10, 2008, 1:44 pm | [70]
Today is the last day of matches, good luck to all teams competing! The winners will be announced tomorrow, if you haven't been keeping up with the action visit the TFL website!
---
Attention FishGolf Architects: submit your courses!
Neo-Realms | August 8, 2008, 7:41 pm | [68]
Have you made a cool FishGolf course that you would like to see as a global tourney? Send a copy of your custom course in a folder with your name on it to Sweegy Manilow for inclusion on one of the daily global tourneys!
---
Page 51
News Archive: 1 | 2 | 3 | 4 | 5 | 6 | 7 | 8 | 9 | 10 | 11 | 12 | 13 | 14 | 15 | 16 | 17 | 18 | 19 | 20 | 21 | 22 | 23 | 24 | 25 | 26 | 27 | 28 | 29 | 30 | 31 | 32 | 33 | 34 | 35 | 36 | 37 | 38 | 39 | 40 | 41 | 42 | 43 | 44 | 45 | 46 | 47 | 48 | 49 | 50 | 51 | 52 | 53 | 54 | 55 | 56 | 57 | 58 | 59 | 60 | 61 | 62 | 63 | 64 |