Fishing News Page 19
---
Page 19
News Archive: 1 | 2 | 3 | 4 | 5 | 6 | 7 | 8 | 9 | 10 | 11 | 12 | 13 | 14 | 15 | 16 | 17 | 18 | 19 | 20 | 21 | 22 | 23 | 24 | 25 | 26 | 27 | 28 | 29 | 30 | 31 | 32 | 33 | 34 | 35 | 36 | 37 | 38 | 39 | 40 | 41 | 42 | 43 | 44 | 45 | 46 | 47 | 48 | 49 |
---
New Fish Available!
Neo-Realms | August 18, 2015, 11:37 pm | [213]
We have some new fish in the water from Devi Nightfire and Molleh Moleno! The new epic fish are:

MerTomcat
Mighty Trojan Hunter
Grumpy Walter

Be sure to keep an eye out for the new arrivals!
---
TFL Season 9 is Complete!
Neo-Realms | June 8, 2015, 8:35 pm | [212]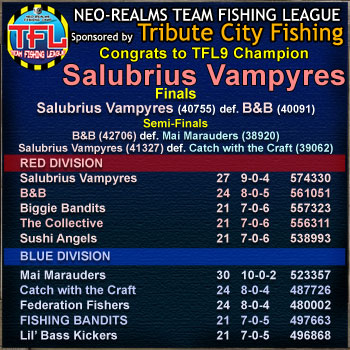 Season 9 is now over! Congrats to Salubrius Vampyres who won a close final over B&B!
Here is the prize distribution for this season:
Salubrius Vampyres
TFL Champions, Division Champs
Sal Salubrius
Rob68 Robbiani


$12,910L

B&B
TFL Runner-Up, 2nd Place Divison
ThBeast Resident
TheiaBurst Resident


$8,020L

Mai Marauders
Round One TFL Playoffs, Division Champs
Callum Finesmith
Leissa Schwade

$7,110L

Catch with the Craft
Round One TFL Playoffs, 2nd Place Division
Maankind Benelli
Ranae Quinn

$4,840L

Federation Fishers
3rd Place Division
Steffi Lavender
Anastasia Mathilde


$2,000L

Biggie Bandits
3rd Place Division
Avatard Aie
brittza Resident

$2,000L

FISHING BANDITS
4th Place Division
Jina Pennyfeather
Itsfrancoisuba Resident

$1,310L

The Collective
4th Place Division
Borg Capalini
TabithaWest Resident

$1,310L

And the winner of our Season 9 Participation Drawing is Sushi Angels! Congrats!
And special thanks to our league sponsor this season, Tribute City Fishing! Thanks to all players who participated, we hope everyone had fun and we will see you next season!
---
TFL Midway Results!
Neo-Realms | April 28, 2015, 3:49 am | [210]
We're past the halfway point of regular season and it's still very close in all divisions! In Blue Division: Lil' Bass Kickers is up on total points with Beauty & The Beast, Mai Marauders, and Catch with the Craft all with 5 wins. In Red Division: Biggie Bandits has a 3 point lead with Salubrius Vampyres, The Collective, Heavenly Swamp Rats and Fishing with the Blues only one game out.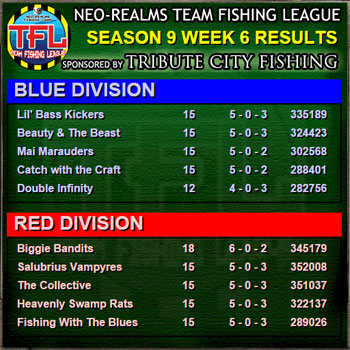 ---
TFL Season 9 is Underway!
Neo-Realms | March 16, 2015, 6:34 pm | [209]
The league season has officially begun! Each player has received rod levels (78 levels for 13 team Blue Division or 84 levels for 14 team Red Division) for the season to spend as they see fit. If you don't see a match for your team immediately, your team may have a bye week. The first match must be completed by the end of Sunday, March 22nd. The results of those matches will be posted next Monday. Good luck to all teams this season!

And remember there is a 500 Epic Bait and 50 Super Bait participation drawing for non-playoff teams that complete all of their matches!
---
Registration for TFL ends 6pm Sunday Night!
Neo-Realms | March 14, 2015, 7:01 pm | [208]
Registration for TFL ends tomorrow night at 6pm! If you still need a partner please contact Sweegy Manilow. More info at tfl.neorealms.net.
---
Page 19
News Archive: 1 | 2 | 3 | 4 | 5 | 6 | 7 | 8 | 9 | 10 | 11 | 12 | 13 | 14 | 15 | 16 | 17 | 18 | 19 | 20 | 21 | 22 | 23 | 24 | 25 | 26 | 27 | 28 | 29 | 30 | 31 | 32 | 33 | 34 | 35 | 36 | 37 | 38 | 39 | 40 | 41 | 42 | 43 | 44 | 45 | 46 | 47 | 48 | 49 |