Fishing News Page 19
---
Page 19
News Archive: 1 | 2 | 3 | 4 | 5 | 6 | 7 | 8 | 9 | 10 | 11 | 12 | 13 | 14 | 15 | 16 | 17 | 18 | 19 | 20 | 21 | 22 | 23 | 24 | 25 | 26 | 27 | 28 | 29 | 30 | 31 | 32 | 33 | 34 | 35 | 36 | 37 | 38 | 39 | 40 | 41 | 42 | 43 | 44 | 45 | 46 | 47 | 48 | 49 | 50 | 51 | 52 | 53 | 54 | 55 | 56 | 57 | 58 | 59 |
---
Team Fishing League Season 9 registration opens Tuesday!
Neo-Realms | February 21, 2015, 2:48 pm | [205]
It's time for another season of Team Fishing League! Registration will open next Tuesday! If you are interested in sponsoring the league, please contact Sweegy Manilow.
---
Neo-Realms Fishing 10th Anniversary Tourneys Sunday, Feb 1st in Alston!
Neo-Realms | January 29, 2015, 2:00 am | [204]
It's hard to believe but Neo-Realms Fishing is a decade old! Come join us in Alston on Sunday for some birthday tourneys!


---
Neo-Realms Presents in the water!
Neo-Realms | December 10, 2014, 9:18 pm | [203]
For the rest of the year, you can catch Neo-Realms Presents! Once you catch the present, be sure to rez them to collect one of many different prizes, including bait and reward points! This year all presents come with charm points for your account!

XMAS REWARDS!
BelvaDEER with Scarf
Christmas Tree
Holiday Wreath
Mr. Snowingsworth
Noel Deer
Penguin with Candycane
Pengy Snowglobe
Santa Polar Plush
Santamun
Santamun Ornament
Sk8ing Pengy
Snow Rabbit
Snow Totoro Globe
Shine Charm 4.0
Dead Red
100x Reward Points 4.0
150x Reward Points 4.0
Snowpals Runner v2- Red
Snowpals Runner v2- Green
TINY Snowpals Runner - Red
TINY Snowpals Runner - Green
TINY Drivable Toboggan
TINY Drivable Toboggan Green FP
50x Medium Bait 5.0
50x Pro Bait 5.0
50x Epic Bait 5.0
50x Quest Bait 5.0
50x Super Bait 5.0



---
Jackolanterns back in season!
Neo-Realms | October 10, 2014, 4:56 pm | [202]
Jackolanterns are back in the water until Halloween! If you fish one of these up be sure to rez it on the ground, and get one of 5 quest pieces! Once you get all five quest pieces, craft the quest to receive one of four NR tiny avs! You'll either get a Aqua Guy toy, Snorkle Gessepi, Aretish Fish or a Wally tiny avatar costume!

Halloween Av Quest:
1x [NR] 4.0 Candycorn
1x [NR] 4.0 Bubble Gum
1x [NR] 4.0 Peanutbutter Cup
1x [NR] 4.0 Loot Bag
1x [NR] 4.0 Costume Coupon
---
TFL Season 8 Complete! Congrats to Mundo Mutsen!
Neo-Realms | June 9, 2014, 4:51 am | [201]
Congrats to TFL Season 8 Winners, Mundo Mutsen!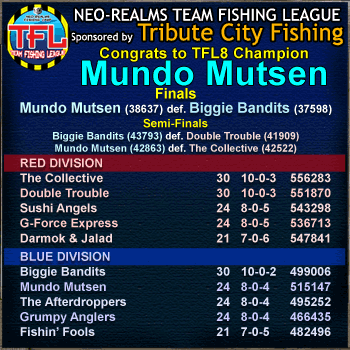 Here is the prize breakdown for this season:


Mundo Mutsen
TFL Champions, 2nd Place Division
Jet Goode
LadyBug Bashly


$10,640L

Biggie Bandits
TFL Runner-Up, 1st Place Divison
Avatard Aie
brittza Resident


$10,290L

The Collective
Round One TFL Playoffs, 1st Place Division
Borg Capalini
Easnadh Swansong

$7,110L

Double Trouble
Round One TFL Playoffs, 2nd Place Division
Dylan Mackenzie
Lacey Latrell

$4,840L

Sushi Angels
3rd Place Division
Gun Tigerfish
Sandy Fugue


$2,000L

The Afterdroppers
3rd Place Division
Rich Aftermath
Heaven Lemondrop

$2,000L

Grumpy Anglers
4th Place Division
Walther Kondrad
TabithaWest Resident

$1,310L

G-Force Express
4th Place Division
Granto McCarey
Giulietta Sugarplum


$1,310L


Special thanks to our league sponsor this season, Tribute City Fishing! Thanks to all players who participated, we hope everyone had fun and we will see you next season!
---
Page 19
News Archive: 1 | 2 | 3 | 4 | 5 | 6 | 7 | 8 | 9 | 10 | 11 | 12 | 13 | 14 | 15 | 16 | 17 | 18 | 19 | 20 | 21 | 22 | 23 | 24 | 25 | 26 | 27 | 28 | 29 | 30 | 31 | 32 | 33 | 34 | 35 | 36 | 37 | 38 | 39 | 40 | 41 | 42 | 43 | 44 | 45 | 46 | 47 | 48 | 49 | 50 | 51 | 52 | 53 | 54 | 55 | 56 | 57 | 58 | 59 |