Fishing News Page 49
---
Page 49
News Archive: 1 | 2 | 3 | 4 | 5 | 6 | 7 | 8 | 9 | 10 | 11 | 12 | 13 | 14 | 15 | 16 | 17 | 18 | 19 | 20 | 21 | 22 | 23 | 24 | 25 | 26 | 27 | 28 | 29 | 30 | 31 | 32 | 33 | 34 | 35 | 36 | 37 | 38 | 39 | 40 | 41 | 42 | 43 | 44 | 45 | 46 | 47 | 48 | 49 | 50 | 51 | 52 | 53 | 54 | 55 | 56 | 57 | 58 | 59 | 60 | 61 | 62 |
---
FINAL TEAM FISHING LEAGUE RESULTS!
Neo-Realms | August 11, 2008, 11:28 am | [71]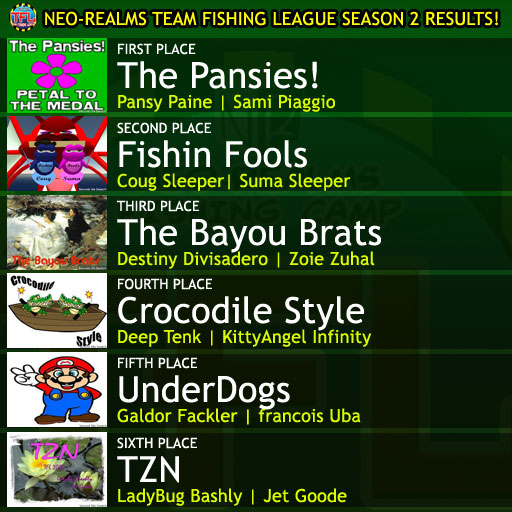 Congratulations to The Pansies for winning the league this year! It was an extremely close race, separated by only one win!

A very special thanks to all of our teams who participated this season, as well as our sponsors who helped make this all possible!

I hope everyone had a lot of fun, and will post more news and info about future league events and seasons at tfl.neorealms.net
---
Final Day of the Team Fishing League!
Neo-Realms | August 10, 2008, 1:44 pm | [70]
Today is the last day of matches, good luck to all teams competing! The winners will be announced tomorrow, if you haven't been keeping up with the action visit the TFL website!
---
Attention FishGolf Architects: submit your courses!
Neo-Realms | August 8, 2008, 7:41 pm | [68]
Have you made a cool FishGolf course that you would like to see as a global tourney? Send a copy of your custom course in a folder with your name on it to Sweegy Manilow for inclusion on one of the daily global tourneys!
---
SUPERPRIVATE TOURNEY at Freaky Fishing July 31st
Neo-Realms | July 29, 2008, 12:11 pm | [67]
At Freaky Fishing there will be a Supertourney.

You will receive a notecard back with the date you can fish it. Time will be 14.00 sltime.

YOU NEED TO SEND A NOTECARD BEFORE the 29th of JULY MIDNIGHT SL-TIME BECAUSE OF THE PLANNING.

Prizes in the tourney are
1st 650 lindens
2nd 450 lindens
3rd 250 lindens
10th 150 lindens


1st in BC 550 lindens
2nd in BC 400 lindens
3rd in BC 250 lindens


1st in the BC list without a superepic gets 350 lindens.
lowest in BC list gets 150 lindens.

If you are in the #1 spot for Best Catch, and your fish is worth 900 points or more, you'll get a 500 Linden bonus! (We're not going to count Red Gyrados in this bonus system, to make it fair for all.) If you do catch Red, make sure to note your next-best-catch so that you can get proper credit. (A notecard would be best.)

Keep in mind that in Private Tourneys, you can use superbait as superbait! That's one of the reasons we're having this Supertourney.

Winners will be the ones with highest scores overall from the two tourneys. Please contact eeree Amat for more info.

Visit Freaky Fishing Camp
---
$57,834 total for RFL!
Neo-Realms | July 24, 2008, 2:57 pm | [66]
The final tally from Fish-A-Thon and vendor donations was $57,834, so thanks once again to everyone for another successful RFL! :)
---
Page 49
News Archive: 1 | 2 | 3 | 4 | 5 | 6 | 7 | 8 | 9 | 10 | 11 | 12 | 13 | 14 | 15 | 16 | 17 | 18 | 19 | 20 | 21 | 22 | 23 | 24 | 25 | 26 | 27 | 28 | 29 | 30 | 31 | 32 | 33 | 34 | 35 | 36 | 37 | 38 | 39 | 40 | 41 | 42 | 43 | 44 | 45 | 46 | 47 | 48 | 49 | 50 | 51 | 52 | 53 | 54 | 55 | 56 | 57 | 58 | 59 | 60 | 61 | 62 |