Fishing News Page 24
---
Page 24
News Archive: 1 | 2 | 3 | 4 | 5 | 6 | 7 | 8 | 9 | 10 | 11 | 12 | 13 | 14 | 15 | 16 | 17 | 18 | 19 | 20 | 21 | 22 | 23 | 24 | 25 | 26 | 27 | 28 | 29 | 30 | 31 | 32 | 33 | 34 | 35 | 36 | 37 | 38 | 39 | 40 | 41 | 42 | 43 | 44 | 45 | 46 | 47 | 48 | 49 | 50 |
---
TFL Season 8 Registration is now open!
Neo-Realms | February 25, 2014, 5:41 pm | [185]
TFL Registration is now open in Tribute City and Alston! Registration is $500 per person and will end Sunday, March 16th. Feel free to take a copy of the TFL info board next to the registration vendor, it will update with TFL scores and news weekly!

The Neo-Realms Team Fishing League (TFL) is a competitive, team-based tournament league for Neo-Realms Fishing. Players compete in 2v2 matches over the course of a season, with over $12,500L + all registration fees in prizes going to the top teams and league victors. Grab a partner and register today!
---
Team Fishing League Season 8 reg opens Tuesday, February 25!
Neo-Realms | February 18, 2014, 8:36 pm | [184]
Season 8 of the Neo-Realms Team Fishing League (sponsored by Tribute City Fishing) will be open for registration Tuesday, February 25th! Registration will be available in Alston as well as our League Sponsor Tribute City Fishing's sim in Zen Events. Registration will end Sunday, March 16th. More info about TFL at tfl.neorealms.com or contact Sweegy Manilow with questions or sponsorship inquiries. Good luck to everyone this season!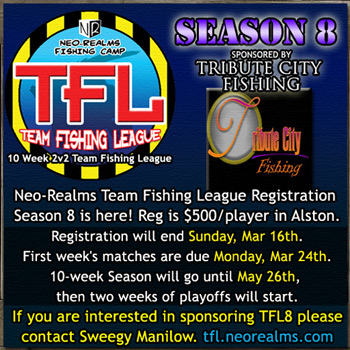 ---
Neo-Realms Presents in the water!
Neo-Realms | December 11, 2013, 4:38 pm | [182]
For the rest of the year, you can catch Neo-Realms Presents! Once you catch the present, be sure to rez them to collect one of many different prizes, including bait and reward points!

XMAS REWARDS!
BelvaDEER with Scarf
Christmas Tree
Holiday Wreath
Mr. Snowingsworth
Noel Deer
Penguin with Candycane
Pengy Snowglobe
Santa Polar Plush
Santamun
Santamun Ornament
Sk8ing Pengy
Snow Rabbit
Snow Totoro Globe
Shine Charm 4.0
Dead Red
100x Reward Points 4.0
150x Reward Points 4.0
Snowpals Runner v2- Red
Snowpals Runner v2- Green
TINY Snowpals Runner - Red
TINY Snowpals Runner - Green
TINY Drivable Toboggan
TINY Drivable Toboggan Green FP
50x Medium Bait 5.0
50x Pro Bait 5.0
50x Epic Bait 5.0
50x Quest Bait 5.0
50x Super Bait 5.0



---
Jackolanterns back in season!
Neo-Realms | October 12, 2013, 4:51 pm | [181]
Jackolanterns are back in the water thru Halloween! If you fish one of these up be sure to rez it on the ground, and get one of 5 quest pieces! Once you get all five quest pieces, craft the quest to receive one of four NR tiny avs! You'll either get a Aqua Guy toy, Snorkle Gessepi, Aretish Fish or a Wally tiny avatar costume!

Halloween Av Quest:
1x [NR] 4.0 Candycorn
1x [NR] 4.0 Bubble Gum
1x [NR] 4.0 Peanutbutter Cup
1x [NR] 4.0 Loot Bag
1x [NR] 4.0 Costume Coupon
---
NEW HUD Mini-Game Available: Dungeons & Fishers!
Neo-Realms | May 29, 2013, 3:01 am | [180]
Our newest fishing mini-game, Dungeons & Fishers, has launched! In this HUD game you will be traversing dungeons, trying to survive monster encounters while accumulating treasure! Along the way you will find many items that will aid you in your journey. Each level is guarded by a boss monster, blocking the way to deeper levels with even more powerful creatures and treasures.

Daily prizes are given to the Worldwide Best (+150 epic bait, +50 charm points, +100 reward points) and Simwide bests for sims equipped with a Neo-Realms Gold Camp (+50 charm tokens, +50 reward points).

There are also 3 new achievement badges available! They include:

Completed a Dungeons & Fishers Run

Worldwide Best Run for Dungeons & Fishers

Completed Level 6 or higher in Dungeons & Fishers



You can find Dungeons & Fishers in your local Neo-Realms Rod vendor! Good luck exploring the dungeons!


---
Page 24
News Archive: 1 | 2 | 3 | 4 | 5 | 6 | 7 | 8 | 9 | 10 | 11 | 12 | 13 | 14 | 15 | 16 | 17 | 18 | 19 | 20 | 21 | 22 | 23 | 24 | 25 | 26 | 27 | 28 | 29 | 30 | 31 | 32 | 33 | 34 | 35 | 36 | 37 | 38 | 39 | 40 | 41 | 42 | 43 | 44 | 45 | 46 | 47 | 48 | 49 | 50 |