Fishing News Page 23
---
Page 23
News Archive: 1 | 2 | 3 | 4 | 5 | 6 | 7 | 8 | 9 | 10 | 11 | 12 | 13 | 14 | 15 | 16 | 17 | 18 | 19 | 20 | 21 | 22 | 23 | 24 | 25 | 26 | 27 | 28 | 29 | 30 | 31 | 32 | 33 | 34 | 35 | 36 | 37 | 38 | 39 | 40 | 41 | 42 | 43 | 44 | 45 | 46 | 47 | 48 | 49 | 50 |
---
TFL Week 2 Results
Neo-Realms | March 31, 2014, 5:42 am | [190]
Week 2 is done and so nice remains the only undefeated team in Blue Division, while Red Division has 3 undefeated teams: Team J & J, The SK Team, and G-Force Express tied for first!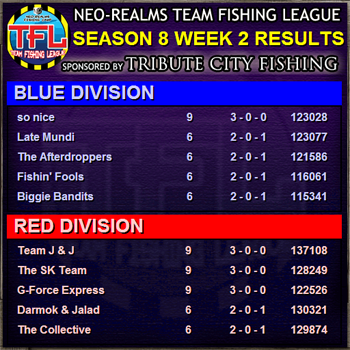 ---
TFL Season 8 Week 1 Results
Neo-Realms | March 24, 2014, 7:45 am | [189]
Season 8 is underway and we have the first week's results in! Good luck to all teams next week!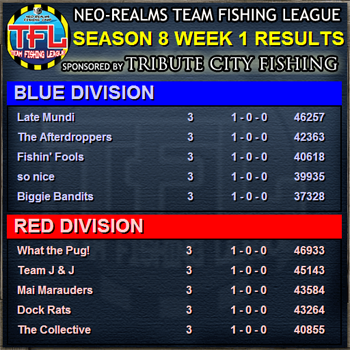 ---
TFL Season 8 is Officially Underway!
Neo-Realms | March 17, 2014, 3:51 am | [188]
The league season has officially begun! Each player has received rod levels (78 levels for 13 team Blue Division or 84 levels for 14 team Red Division) for the season to spend as they see fit. If you don't see a match for your team immediately, your team may have a bye week. The first match must be completed by the end of Sunday, March 23rd. The results of those matches will be posted next Monday. Good luck to all teams this season!
---
Last Day for TFL Registration
Neo-Realms | March 16, 2014, 8:33 pm | [187]
If you would like to participate in the Team Fishing League, please register by midnight PST tonight! More info at tfl.neorealms.net
---
Last Week to Register for Team Fishing League!
Neo-Realms | March 13, 2014, 4:47 pm | [186]
Registration for the TFL ends Sunday, March 16th, so if you haven't registered yet, you can sign up at Tribute City or Alston! More info on the Team Fishing League at tfl.neorealms.net
---
Page 23
News Archive: 1 | 2 | 3 | 4 | 5 | 6 | 7 | 8 | 9 | 10 | 11 | 12 | 13 | 14 | 15 | 16 | 17 | 18 | 19 | 20 | 21 | 22 | 23 | 24 | 25 | 26 | 27 | 28 | 29 | 30 | 31 | 32 | 33 | 34 | 35 | 36 | 37 | 38 | 39 | 40 | 41 | 42 | 43 | 44 | 45 | 46 | 47 | 48 | 49 | 50 |