Fishing News Page 13
---
Page 13
News Archive: 1 | 2 | 3 | 4 | 5 | 6 | 7 | 8 | 9 | 10 | 11 | 12 | 13 | 14 | 15 | 16 | 17 | 18 | 19 | 20 | 21 | 22 | 23 | 24 | 25 | 26 | 27 | 28 | 29 | 30 | 31 | 32 | 33 | 34 | 35 | 36 | 37 | 38 | 39 | 40 | 41 | 42 | 43 | 44 | 45 | 46 | 47 | 48 | 49 | 50 | 51 | 52 | 53 | 54 | 55 | 56 | 57 | 58 | 59 | 60 | 61 | 62 | 63 | 64 |
---
TFL Season 12 Week 10 Results
Neo-Realms | May 7, 2018, 11:54 pm | [264]
The regular season has ended, and it was a close race to the playoff spots! In Blue Division, The Federation Fishers wrapped things up early, but it was down to tiebreaker points for Double Trouble to grab the second playoff spot. In Red Division, Femme Fatale Fishers and The Blues Fishers narrowly wrapped up the top 2 spots on tiebreaker points. The first round of playoffs will feature:

Federation Fishers vs. The Blues Fishers Femme Fatale Fishers vs. Double Trouble
Good luck to all teams in the playoffs!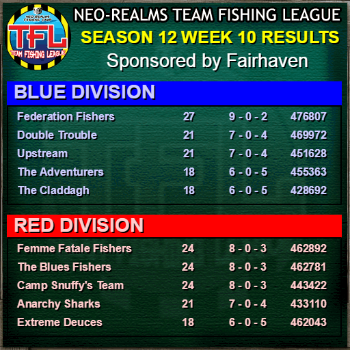 ---
TFL Season 12 Week 9 Results
Neo-Realms | April 30, 2018, 10:44 pm | [263]
It's the last week of the regular season! Two games to play this week so it's all up for grabs! Good luck to all teams this week!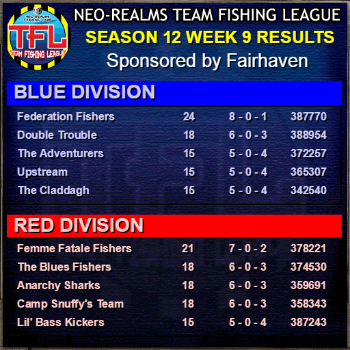 ---
TFL Season 12 Week 8 Results
Neo-Realms | April 25, 2018, 10:21 pm | [262]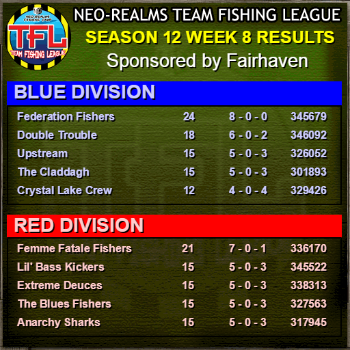 ---
TFL Week 7 Results
Neo-Realms | April 16, 2018, 10:05 pm | [261]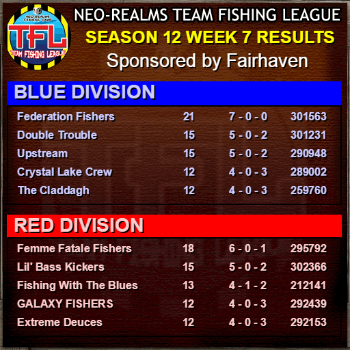 ---
TFL Season 12 Week 6 Results
Neo-Realms | April 9, 2018, 10:35 pm | [260]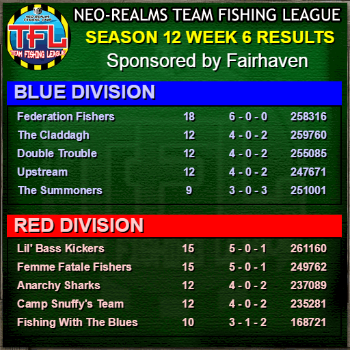 ---
Page 13
News Archive: 1 | 2 | 3 | 4 | 5 | 6 | 7 | 8 | 9 | 10 | 11 | 12 | 13 | 14 | 15 | 16 | 17 | 18 | 19 | 20 | 21 | 22 | 23 | 24 | 25 | 26 | 27 | 28 | 29 | 30 | 31 | 32 | 33 | 34 | 35 | 36 | 37 | 38 | 39 | 40 | 41 | 42 | 43 | 44 | 45 | 46 | 47 | 48 | 49 | 50 | 51 | 52 | 53 | 54 | 55 | 56 | 57 | 58 | 59 | 60 | 61 | 62 | 63 | 64 |